Affordable 24/7 Access to Remote Doctors Nationwide
Speak with a doctor today, get diagnosed in minutes
Get Started
Voted "Best Subscription Service for Online Doctors" by Consumer's Advocate in 2020 and 2021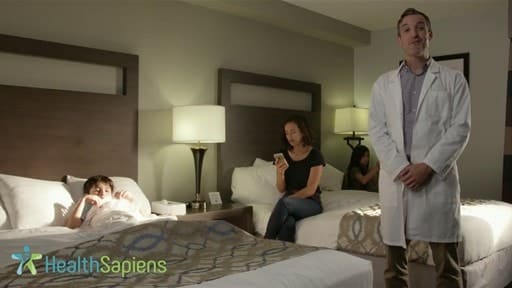 Convenient Access to Doctors Using Your Mobile Device
Why spend hours of your day and hundreds of dollars at Urgent Care or the Emergency Room?

With a HealthSapiens Medical subscription, you can avoid the hassle of "traditional" in-person healthcare and start feeling better faster.
Save Money on Healthcare
Get unlimited access to licensed U.S. doctors without the need for expensive deductibles or per-visit fees.
Healthcare From Anywhere
Speak with a doctor by phone or video using your internet-connected device (even while on vacation).
Help When You Need It
Doctors are available 24/7 365 days per year to help you with most acute symptoms.
Prescriptions Available
Get the medication(s) you need to start feeling better today.
Skip the drive to and from the doctor's office -- you can speak with a doctor in the next 15 minutes.
Create Your Account
Provide your basic info and a valid credit or debit card, and add up to (5) family members at no additional cost
Visit With Doctor
In 15 minutes, you can be speaking with a licensed U.S. doctor by phone or video chat (anytime 24/7/365)
Get Treated
After your consultation, your prescription will be sent to your closest pharmacy for pick-up (or delivery)
You and your family can have unlimited virtual access to doctors for one low monthly rate (no health insurance required)
What Our Customers Are Saying
More affordable than Urgent Care, your Primary Care Provider, and especially the Emergency Room (which can run $1500 or more)
Household Plan
For you + 5 family members
Covers you + up to (5) family members

Unlimited doctor consultations

Available anytime 24/7

Speak with a doctor within 15 mins

Prescriptions sent to your pharmacy

$0 per-visit fee, no co-pay

No contract, cancel anytime
Frequently-Asked Questions
What conditions can a HealthSapiens Medical Plan help with?
Answer: Members can be helped with most acute symptoms such as:
Allergies, Bronchitis, Cold, Cough, Diarrhea, Ear Ache, Eye Infection, Fever, Flu / Influenza, Headache, Pneumonia, Rash / Skin Infection, Sinus Infection, Small Wound, Stomach Ache, Upper Respiratory Infection, Vomiting, Yeast Infection
Unless you are ready to call the ambulance, HealthSapiens can be your first line of defense.
How does a HealthSapiens Medical Plan work?
Answer: Once you register as a new user, you simply log into your Patient Portal or call a toll-free number to request a consultation with a doctor. You can be speaking with a doctor in as little as 15 minutes by phone or video consultation. If a prescription is required, it will be sent to your preferred pharmacy for pickup or delivery. There's never a per-visit fee or co-pay, and you can avoid the doctor's office, waiting rooms, and the drive across town and back.
HealthSapiens is Health + Wellness on your schedule.
Do I need insurance for a HealthSapiens Medical plan?
Answer: You can sign up regardless of whether or not you have health insurance. There is never a co-pay or deductible -- you simply pay an affordable monthly subscription rate each month.
HealthSapiens Medical works with or without an existing insurance plan.
Is HealthSapiens an online pharmacy?
Answer: No, we are not a pharmacy. We connect patients with high performing Doctors in their home state that can diagnose and treat most acute health conditions remotely.
If your treatment involves a prescription, your HealthSapiens doctor will order your prescription, and you can pick it up at the pharmacy of your choice.
Note: Medication cost is payable separately and is not included in the cost of a HealthSapiens subscription.
Why is HealthSapiens Medical so affordable? Is there a catch?
Answer: There is no catch. Unlike insurance, there are no greedy intermediaries between you and our doctors.
The money you pay goes to our doctors with no payouts to insurance companies or government entities. That's how healthcare should be, right?
Is HealthSapiens Medical the same as health insurance?
Answer: No. HealthSapiens is not a health insurance plan, and it can work without (or in addition to) an existing insurance plan. Your remote doctor visit will not prompt many of the same inconveniences as an in-person one will. 
Your insurance will never be billed, and the only out-of-pocket cost you pay is the low monthly subscription fee and the cost of prescribed medications. (You can easily cancel at any time.)
Do HealthSapiens doctors prescribe medication?
Answer: Yes. HealthSapiens doctors are able to prescribe medications and send prescriptions to your preferred/closest pharmacy.
Do HealthSapiens doctors refill medications?
Answer: Yes. HealthSapiens doctors are able to call in prescription refills to your preferred/closest pharmacy.